Why choose a non-denominational minister?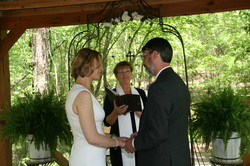 There are times when a couple's current minister is unable to perform their wedding ceremony due to other commitments or the location of the wedding.

There are some churches that do not allow divorced members to remarry or couples may not be affiliated with a particular church. In most cases, denominational ministers will require couples to attend pre-marital counseling, regardless of age or life experiences.

Often couples consider themselves spiritual rather than religious. As an ordained non-denominational / all faith minister I am able to meet the needs of everyone regardless of religious affiliation or lack of.

---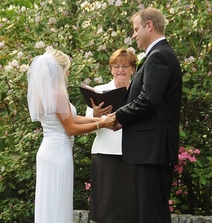 Weddings are a very important part of my ministry. I love working with couples and am moved and touched by what they share. I recognize that all relationships are sacred and my ceremonies are a reflection of this truth.

As a non-denominational minister I will help you create a ceremony that is an expression of your love and personal beliefs. I am open-minded and always honor the beliefs and lifestyles of the people I serve.

I love working with any combination of denominations, people of no denomination, and those who consider themselves spiritual but not religious.

---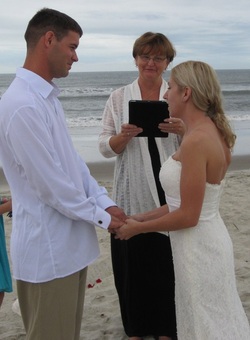 I serve couples who are with child, or who already have a family and are not yet legally married. All ceremonies are performed with consideration and respect. It is always an honor and a privilege to participate in a celebration of love.My ministry is not limited to weddings and includes all of life's celebrations including the blessing of an unborn child, baptism, welcoming/naming/dedication of a child, and memorial services.Guy, my husband, and I are owners and caretakers of RiverMist, a spiritual retreat center located in the foothills of North Carolina. I am a former Hospice chaplain and continue to offer spiritual support for terminally ill patients and caregivers. I coordinate and lead various retreats and workshops throughout the year.
---
Rev. Victoria Hutchins
NC Wedding Minister and Officiant
vchutchins@gmail.com
call or text: 980 622-1680